The Be Heard Method
Learn how to get your kids to listen to you!
Do You Wish Your Kids Would Listen to You Without all the Struggle
>> What if your child never talked back again
>> What if you could ask your kid to clean up their toys without a total meltdown
>> What if instead of fighting all the time, you actually got along with your child
With the Be Heard Method, there's no need for all of that arguing, back talk, and defiance. You'll learn how to get your child to listen and comply the first time you ask in little to no time!
Does this sound like you?
---
>> You're constantly yelling at your child and get no response back
>> You ask your child to do something and they act as if you asked them to climb Mt. Everest
>> You choose to pick up after your child rather than asking them because it's just not worth the fight to get them to do what you ask
>> You're sick and tired of all of the excuses that your child has every time you ask them to do anything
>> You're afraid to take your child to the store or out with friends for fear of them misbehaving and completely embarrassing you
What if there was a way to get your kids to listen to you…
to make sure that when you ask your child to do something, they immediately hear you and get to work without any backtalk, arguing, or complaining.
That is exactly why I created the Be Heard Method. I want to help you dramatically improve your kid's listening within 5 days so that you can ask your child to do something and have it get done immediately without all the arguing, backtalk, and complaining.
So, if you have been asking yourself: How do I get my kids to listen?!? Then this online self-paced course is for you!
for only 29.99
The Be Heard Method is a 5 day video course that will teach you how to address and correct the 5 main reasons that kids don't listen.
You will learn how to get rid of negative behavior like arguing, complaining, making excuses, and blaming others.
Plus, the exercises and activities within the course are specifically designed to help you repair the damage and hurt feelings that have arisen because of your child's poor behavior and your response to it.
Right now you're sick and tired of the constant battle that comes every time you ask your child to do just about anything.
Imagine if… you no longer had your blood pressure spike over the simplest request.
Imagine… the time and energy you will get back once your child starts helping around the house without all of that fighting, anger, and resistance.
Imagine… taking your child to the grocery store and knowing that you will not be embarrassed by their meltdowns.
In 5 short days the Be Heard Method will teach you how to get your kids to listen!
Buy Now for 29.99
Hi there! I'm Ruth Song
I'm a Master's Level Counselor with a certification in Parent Child Interaction Therapy as well as a licensed Elementary School Teacher. I help families grow closer and work better by teaching skills that address all of those common behavioral issues that come up in the normal course of raising kids.
As a mom of 2 boys and a foster mom to multiple kiddos, I know how challenging life can get when your kids refuse to listen and obey. Nothing pushes my buttons more than having one of my kids whine, complain, or refuse when I ask them to do something simple and easy.
That's why I created the Be Heard Method – because I needed a solution to help the kids who come through my house quickly learn how to listen and comply.
I wanted a format for asking my kids to do things in a way that strengthened our relationship rather than tore it apart.
My goal of sharing the Be Heard Method with you is to help you get rid of back talk, arguing, and defiance and gain back your time, energy, and relationship when it comes to parenting your children.
Gain back your time, energy, and relationship with your children.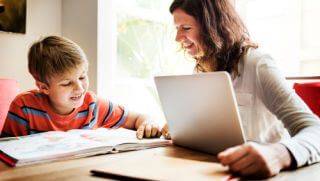 The methods and tools inside the Be Heard Method are the same tools that I use every day with my own kids.
fun, relevant activities that help you and your child learn listening skills
worksheets to help guide you through the learning process
Plus, quick, easy lessons that are to the point and will get your kids listening better in 5 days or less
5 Video Lessons + Bonus Welcome Video
Each video targets one of the 5 reasons why kids don't listen and gives you ideas, activities, and tricks to address and resolve the issue. Videos specifically target defiance, power struggles, control issues, and so much more!
Plus, use the bonus welcome video to get a general overview, instructions for accessing all bonus material, and more.
Value: 134.99
Printable Workbook
Printable Worksheets with fun, engaging activities for you and your children. Learn how to communicate better and get rid of negative listening behaviors.
Value: 14.99
BONUS: Printable Poster
Use this cute poster to teach listening skills and remind your kids (and yourself) to use the skills they've learned.
Value: 4.99
BONUS: Brave Resources Sheet
Additional resources to target bigger mental health issues and questions beyond the scope of this course.
Value: 9.99
The Course Outline
Day 1: When Your Kids Don't Hear You
On Day 1 we are going to jump into reason 1 of why kids don't listen which is that they don't hear us and/or they are distracted.
Now, the good news about this reason is that it's a super easy fix and I have some great ideas to help you work on getting your child's attention quickly and easily!
Day 2: Listening Skills
Day 2 has us jumping into the idea that your kids may not actually know how to listen. I mean, these aren't skills that we are innately born with. We are going to talk about how to teach your children better listening skills with some fun games and activities that will be helpful for just about any kid!
Day 3: Dealing with Defiance
On Day 3 we are talking about kids not listening out of defiance. There are a few different reasons that a child may actively choose to defy you and not listen and we will address each of these and give you some great tools to start helping your kids choose to comply.
Day 4: Control Issues and Power Struggles
Day 4 will address control issues. There are 2 different ways that control can play a part in your kids not listening to you.
The first way would be the basic human desire to have a say and have control over the course of your own actions. This can be tough for kids who aren't always able to have the level of control over their lives that they may wish they had.
The second way that control can factor into kids not listening is actually part of normal childhood development. You see this often in 2 and 3 year olds who are learning to be independent by saying no.
Again, I have a really great parenting tool that really gets at the heart of the control issues – whether you are dealing with a toddler or a teenager trying to find control over their life!
Day 5: Negative Thinking Patterns
Finally, on Day 5 we are going to delve into the concept of Negative Thinking Patterns. We'll take a look at a few of the most common negative thinking patterns in kids that may be coming into play when they are not listening.
Negative thinking patterns can really derail a child's ability to listen and comply. They can get stuck in faulty thinking that is so loud, they can't hear past it.
Working on addressing these negative thinking patterns will allow your child to stop fighting, giving up, or not complying as often.
The Be Heard Method
Get your kids to listen to you the first time
Total Value: $164.96
29.99
Frequently Asked Questions
Beyond the obvious: How do I get my kids to listen to me?
What age does the Be Heard Method work for?
The Be Heard Method is designed to work for toddlers through teenagers. Each video will address adjustments and ideas based on the age of your child.
The great thing about this is that you can really grow with the Be Heard Method and come back to access it again and again as your children mature and develop.
How will I access the course?
The Be Heard Method is hosted inside of the Thinkific Platform. When you click buy now, you will be prompted to set up your account and then purchase. Once you have set up your account, be on the lookout for an email containing your login details for future access.
Thinkific is an easy to use, intuitive online classroom that will allow you to save your place, track progress, and find all of the bonus material in one place.
Is this course meant for me or my child to watch?
The videos in this course are for parents. However, there are many exercises and activities that you will do with your child throughout the 5 days of the course.
I'm really busy, what if I miss a day or don't have time to complete all of the assignments?
While the Be Heard Method is designed to be completed as quickly as 5 days, there will be no problems with spreading out your lessons to better accommodate your time and lifestyle.
All videos and materials are available upon purchase so that you are able to work at your own pace.
What if I am not happy with the course, can I return it?
Unfortunately, due to the digital nature of this product, I am not able to offer refunds. If you have any difficulties accessing or using the course or resources, please don't hesitate to reach out – I want you to be successful!
Who is the Be Heard Method for?
Fed-Up Parents – I know how exhausting it is to fight with your child just to get them to listen to you day after day. The Be Heard Method will work for you and get your child back on the right track!
Parents of Defiant Kids – Kids who disobey out of defiance can be a real test to any parent's sanity. The Be Heard Method will give you a quick solution that gets your kids listening and minding you in just 5 days!
Foster Parents – Building a relational connection is key when it comes to communicating and parenting foster kids. The Be Heard Method is designed to help you connect to encourage compliance.
Busy Parent – The Be Heard Method is designed to fit with your crazy busy lifestyle and fit in seamlessly. Choose when and where to access the course and learn. Use your real life daily interactions with your child to work on the "homework". And complete the course at your own pace!
So… How does this actually work?
Once you click to enroll, you will be directed to create an account (so that you can come back and access the course anytime you like!) Once you set up your course and pay, feel free to jump in right away. Or, if you prefer, come back at a later time. You will be able to login and access all of the course videos, workbook, and bonus materials from the moment you click submit.
You will also receive an email with your login details so make sure to watch for that and keep it somewhere safe so that you can get back into the course. (Please note that the email delivery service does sometimes take up to 10 minutes or so to process everything. If you don't see the email, check your junk/spam folder.)
If you need assistance after purchasing, please email ruth@mybraveguide.com
Refund Policy
Due to the virtual nature of this course, there will be no refunds after purchase.
Imagine where your relationship could be with your child 5 days from now…
You could be enjoying each other's company without all the fighting and defiance.
You could be working alongside each other to get the house cleaned up so that you have time to go hang out and have fun together.
You could be feeling totally confident and in control of yourself as a parent.
You could be out to dinner with friends knowing that your child will listen to you and behave throughout the meal!
Now is the time to purchase!
In just 5 days you could have a child that listens and responds appropriately!
$29.99